Stats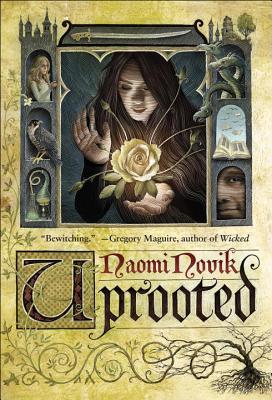 Author: Naomi Novik
Published: 19 May 2015
Publisher: Del Rey
Page Count: 438
I received this book from Edelweiss for review.
Every ten years, a small, valley town has to offer up their eligible daughters to The Dragon, who keeps the daughter for ten years up in his tower. Uprooted tells the story of Agnieska, who finds herself taken by The Dragon when he comes to her small town to choose his next servant. Agnieska, having thought her entire life that her best friend Kasia would be taken, gets ripped from her home into the tower.
Once Agnieska reaches the tower, she finds that things aren't quite as how the townsfolk believed them to be. The Dragon is sullen, brooding, but certainly not violent. And, once there, Agnieska comes into a piece of herself that she never thought was there.
I absolutely loved this book. I could have included more details in my summary, but I don't think anyone should know more than what they 'have to' before they pick this book up.
Uprooted has it all: a great fantastical setting, a very Grimm-esque plot, complex female characters (!!), magic, horrifying creatures, and a beautifully written world. Seriously, this world felt so real. The detail that Novik put into it was just stunning. Especially when it came to the wood, which has to be one of the best 'villains' I've read in a book in a long time. Novik builds the world so well, with such rich descriptions, it's impossible to not read it within the span of a couple days. I thought the way that she handled the distinctions between 'men's' magic and 'woman's' magic was really interesting and well done, as well as how she handled the actual process of setting this magic up.
Basically, this novel did nothing wrong and it could have been like five hundred pages longer and I still would have loved it as much as I do. Easily a favourite of the year; easily a book that I will re-read at least ten times in the span of my life.
Just read this book!
Until next time, happy reading!
–E. Adeline