Hey, y'all! I'm wrappin' up June, this time with the books I read digitally. My first post was on the Chronicles of Narnia series, in case you missed it. I read six books digitally in June, one of which was the entire Locke and Key series by Joe Hill and Gabriel Rodriquez (I think I read the first at like 10PM on 30 May, but I'm just counting it here), as well as the second trade of Alex and Ada by Jonathan Luna and Sarah Vaughn.
Comics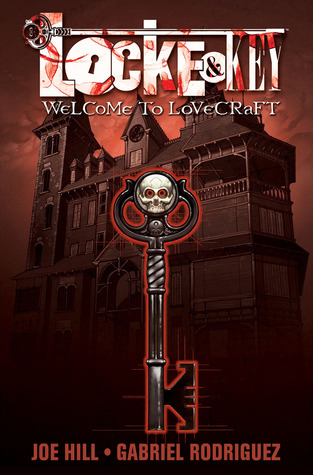 Locke and Key 
If you didn't know, Joe Hill is Stephen King's son. I love Stephen King. I also love his son. They write fantastically creepy books, and they're two of my favourite horror writers. So, I'm not quite sure why it took me so long to check out Locke and Key, but I'm so glad I did. It's amazing, and fairly addicting. I tried to put off reading all the trades at once, but I failed. Miserably.
Locke and Key tells the story of three siblings and their mother who move to a New England mansion after a horrific accident happens, which leads to the death of their father (not a spoiler, it happens like on the first page). I don't want to give too much away, because I think it's a great series to go into without knowing much, but basically there are a series of keys that the children find that 'unlock' different doors. One makes you a ghost, another changes your gender. It's a really cool and unique concept, and I loved the way it played it within the series. I will say, it is a very violent series, so if you don't like blood and violence, it might not be for you. Personally, I'm okay with it, and I love the way that Rodriguez illustrates both the violent moments, as well as the series overall.
The six trades ranged between four and five stars, but overall it's a five star series. Highly recommend!
Alex and Ada: Volume Two 
As I said before, Alex and Ada is a comic series by Jonathan Luna and Sarah Vaughn. I'm not going to go into too much detail, as this is the second volume, and I don't want to give anything away, but Alex and Ada tells the story of a young man named Alex who receives an X5 (the latest and best in realistic androids) from his grandmother, because she believes it will help with his loneliness. Alex and Ada masterfully questions what it means to be human, and explores the various complexities of human connection. It has a cast of wonderful characters, and the illustration is gorgeous–I'm a fan of its smoothness and its colouring. I highly recommend if you're a fan of quiet sci-fi. I gave it five stars.
Books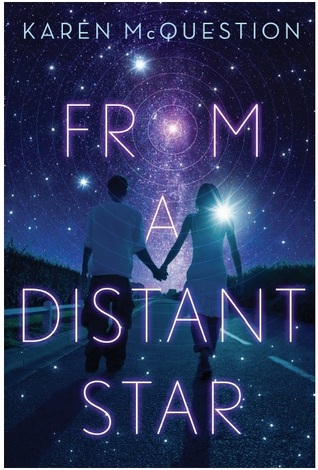 From a Distant Star by Karen McQuestion
I received this book from Netgalley and Skyscape for an honest review. The premise of this book is interesting: a girl's boyfriend is dying of cancer, and his body becomes inhabited by an alien trying to find its way back home, forcing the girl to embark on a journey with said boyfriend/alien to try and get him home so she can get her boyfriend back. It sounded like it could be a fun, light read. Unfortunately, the execution of the story left it anything but a fun and light read. The main character spends all of her time obsessing over her boyfriend (keep in mind–they've only been dating a year) and relying on other characters to tell her what to do. None of the characters maintain constant character traits, and a series of really ridiculous events happen that are in no way realistic. There's no point in this story when anything felt realistic or believable or even slightly likable. And the writing feels juvenile at best.
I gave it one star, and do not recommend. Though, the cover is pretty gorgeous.
Amy and Roger's Epic Detour by Morgan Matson 
High school graduate, Amy Curry, has to road trip across the country from her home in California to where her mother has moved in Connecticut. The trouble is that Amy doesn't drive ever since her father died in a car accident, so her mother enlists an old family friend's son, Roger, to drive with Amy. From there, the two make their way across the United States, helping each other grow and heal the closer they get to Connecticut.
I don't read YA contemporary often, so I was pleasantly surprised by how much I liked this book. It's light, but it touches on tragedy; it's cute, without being overtly sweet and overdramatic; and it's a great book about loss and moving forward. I liked both Amy and Roger as characters; they felt like people I could meet and know in real life. I liked the additions of the playlists, photographs, and receipts. It added another dimension to the book. Overall, I enjoyed it and would definitely pick up another Matson novel. I gave it four stars.
A Master Plan for Rescue by Janis Cooke Newman 
I received this book from Penguin First to Read for an honest review. A Master Plan for Rescue is about a boy who loses his father in a random accident in 1942. Believing that his father isn't actually dead, but has become a spy that has been leaving him messages to be read with the decoder ring his father gave him before his death, the boy tracks around New York City looking for Nazis, hoping to somehow come across a heroic situation that will allow him to find his father again. I really, really enjoyed this novel. I'm a big fan of World War II novels to begin with–particularly ones that focus on relationships and family. I thought that Newman wove together a great story with both Jack and Jakub (a Jewish man that he meets in his travels); her writing is exquisite and I loved the way that she explored life, loss, and grief in the novel. It had a charming quality, as well as a tragic quality–both of which worked well together. I'm not sure if I completely certain aspects of the ending, but I thoroughly enjoyed reading A Master Plan for Rescue. I definitely recommend! I gave it four-and-a-half stars.
The Testament of Mary by Colm Tóibín 
The Testament of Mary is a novella that revolves around the now solitary Mary, who wants absolutely nothing to do with the followers and writers of the Gospel, and who is attempting to live after her son's crucification, when she doesn't really know what happened and how her son got to where he was. Mary doesn't believe her son was the Son of God, and she doesn't believe in the way that people gathered around him. It's a powerful novella, and I think it raises a lot of interesting questions about Christianity and the way in which people flock around certain figures as both inspiration and hope, as well as a spearhead for change. It also raises a lot of questions about the recording of history and how writers change voices or stories in order to fit their needs. The writing is beautiful, and I enjoyed how Tóibín portrayed the events of the New Testament, especially as an agnostic reader. I just wish it had been a little longer. I gave it three-and-a-half stars.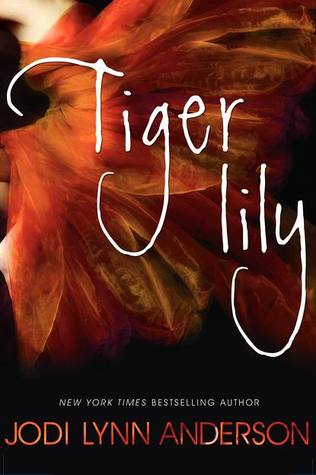 Tiger Lily by Jodi Lynn Anderson 
Tiger Lily tells the tale of Tiger Lily from Peter Pan, but from Tinkerbell's perspective. It follows Tiger Lily as a stubborn, stoic member of her tribe, who doesn't really believe in love or happiness. She cares about people, but in a distant way. Then, she meets Peter Pan and his lost boys, and finds herself intrigued by this brave, but equally stubborn boy. Pirate enemies and Tiger Lily's tribe threaten to separate them, but nothing separates them more as the entrance of Wendy Darling.
I loved this book. I thought it was a great retelling. I loved Tiger Lily as a character: she's strong, she's feisty, and she knows what she wants. She's a beautifully complex character. I thought that Anderson portrayed her tribe well, and I loved the inclusion of Tick-Tock, a two-gendered shaman. It was a diverse, realistic portrayal of Native American tribes, and I throughly enjoyed it. I also liked that Anderson played with Peter Pan as a character: he's both the charming boy, as well as the cold boy–the boy who can play both hero and villain. Anderson played with the Peter Pan story well, and I liked the way she changed things around, but still made it work as a retelling. (Also! Creepy mermaids!) Overall, I highly recommend this if you're a fan of Peter Pan. I gave it four stars.
And that is everything I read digitally! One more wrap up post left. If there is anything here you would like a more in-depth review on, let me know!
Until next time, happy reading!
–E. Adeline